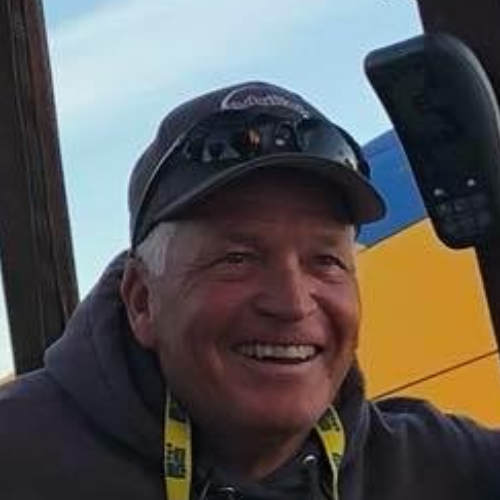 Allen ANDERSON

- United States
Biography
Personal Information
Age 61 Years
Marital Status Married, 40 years
Wife Lori
Children Allen Jr., 39 years
Jennifer, 37 years
Occupation Business Owner Hot Air Balloon Pilot, Retired Fire Captain, East Fork Fire
Hot Air Balloon Experience
Year Certified 1982
FAA Certificate Type Commercial Pilot
Lighter-Than-Air Free Balloon
Limited to Hot Air Balloons with Airborne Heater
Certificate Number 3384089
Hours Logged 3200+
In the 40 years that I have been a pilot I have flown almost every type and size hot air balloon including special shapes and very large balloons. My adventures have taken me all over the United States, Thailand and for a number of years I flew for a ride company in Puerto Vallarta, Mexico. I have flown in many balloon events and have a great love for competition. I have taken top honors in quite a few events including the Great Reno Balloon Race which I have won five times.
As a dealer for Kubicek Balloons I am involved in or have been involved in balloon sales, pilot training, administering and piloting corporate balloons, organizing and administering hot air balloon events and races. Companies that I have done work for include Freixenet Champagne, Kellogg's, Harrah's, Las Vegas.com, GM Goodwrench, Remax, Silver Legacy, Nevada Bell, Pacific Bell, SBC, Lake Tahoe Balloons, Dream Weavers Balloon Company, Las Vegas Balloon Rides, D&R Balloons, The Great Reno Balloon Race, Northern Lights Balloons, Mountain High Balloons, Puerto Vallarta Balloon Tours, among others.
Although now retired, my full time employment for the last twenty-eight years has been as a firefighter/fire captain with East Fork Fire. My wife and I also run a balloon company that deals in both cold air advertising balloons and hot air balloons.
Besides ballooning, my hobbies include motorcycling, scuba diving, camping, hiking, boating, travel, fishing and car racing.